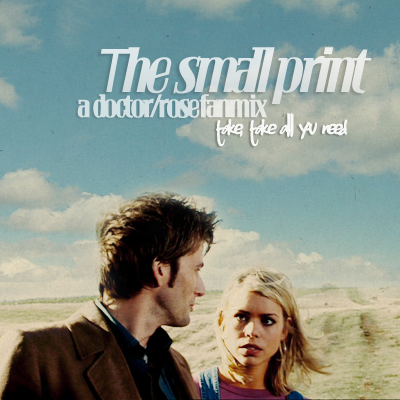 Icons:








01. The small print | Muse
"take, take all you need
and i`ll compensate your greed
with broken hearts"
02. Black black heart | David Usher
"Black black heart why would you offer more
Why would you make it easier on me to satisfy
I'm on fire I'm rotting to the core"
03. Kiss and Swallow | IAMX
"Echo Echo
I know it's a sin to kiss & swallow
Echo Echo
A kick in the head to kill the hollow "
04. In pieces | Linkin Park
"Telling me to go
But hands beg me to stay
Your lips say that you love
Your eyes say that you hate"
05. It Ends Tonight | The all american rejects
"When darkness turns to light,
It ends tonight
It ends tonight.
A falling star
Least I fall alone.
I can't explain what you can't explain. "
06. Oblivion | 30 Seconds to Mars
"Under the burning sun
I take a look around
Imagine if this all came down
I'm waiting for the day to come"
07. This Weather | Patrick Wolf
"Under this weather
Under this weather
Such shadows are blossoming
Out at sea"
08. Unintended | Muse
"You could be my unintended,
Choice to live my life extended,
You could be the one I'll always love."